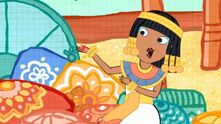 Cleopatra (voiced by Nelia Ginger Bocceli) is an Egyptian queen who first appeared in The Cleopatra Problem.
Her first appearance
Cleopatra helps Peg find her marble and herself find her pet camel named Epidermis. She also appeared in The Cold Camel Problem. Cleopatra has lost Epidermis again. This time, She thought she was hungry for veggies: Cauliflower, Carrots and her favorite Broccoli.
Notable Act
She is a member of Peg's girl group, The Pentagirls.